Perhaps the most popular feature is our premium Hot Tub.
Perfect for relaxation or to ease the muscles after a long walk/hike/bike ride, our hot tub seats up to six people with three bucket seats and two loungers. Two separate pumps provide control over the spa jets, the two loungers' hydro jets, fountains, waterfall and large hydro jets.
Situated in a quiet corner of the private courtyard, this is the ultimate in outdoor bathing where you can relax and unwind, with uninterrupted views of the sky or stars creating the perfect atmosphere. At night you can also enjoy the light show from the surface and underwater colour change LED's.
Specification
Harbour Spa Premium Hot Tub
Material
Aristech (USA) Acrylic
Size
2100 x 2100 x 920 mm
Seating

5-6 Person
3 Bucket seats
2 Loungers

Capacity
1200 litres
Weight
300kg Empty, 1500 kg Full
Jets

49 Stainless Steel Jets
4 x Neck and Shoulder Massagers

Pumps

2 x High performance pump 2 hp
Circulation pump – 0.53 hp

Heater
3 kw Heater
Lighting

Under Water Colour Changing Lights
Waterfall With Led Lights
Double Water Fountain With Led Lights

Other Features

Balboa Digital Computer Control System
2 x Filters
3 x Water Diverters
4 x Head Rest Pillows
Stainless Steel Frame
Frost Prevention System
Water Temperature Detection System
Water Level Detection System
Waterfall Feature
Double Water Fountain
Ozonator
Aromatherapy Dispencer/Fragment Box
Wood or Vinyl Hem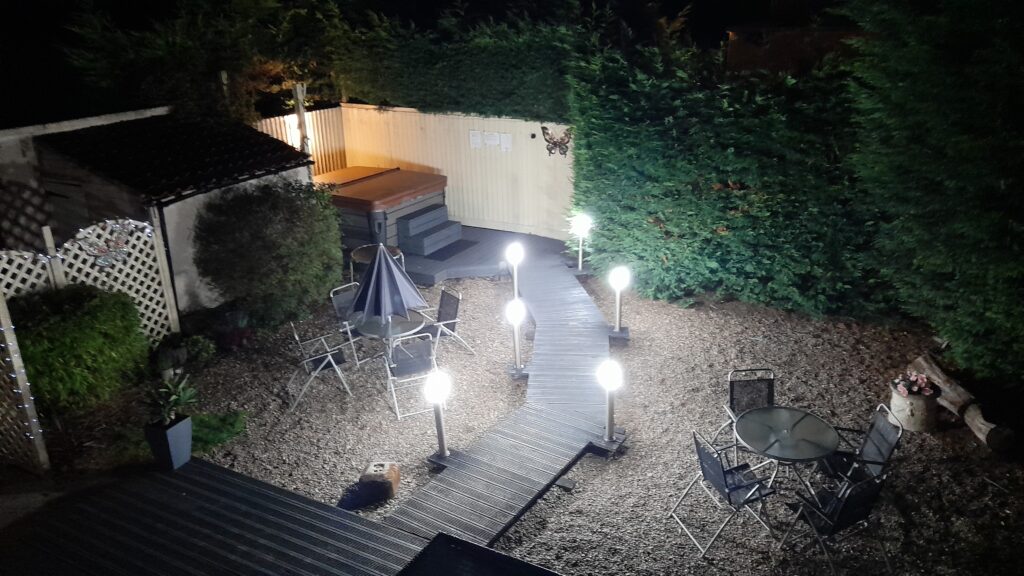 The low voltage post lights illuminate the path to the hot tub at night until midnight. The hot tub can be used from 10am to 10pm giving ample time to relax during the day and in the evening after a strenuous day out.