New Sherwood Forest Visitor Centre Opens In Edwinstowe
Around ten minutes drive from our self-catering holiday home, the new Sherwood Forest Visitor Centre is the perfect place to start exploring the ancient woodlands and RSPB nature reserve.
With maps, trail guides for cycling and walking, birdwatching journals and information on all the local area has to offer, this modern facility also includes a cafe, shop and accessible toilets and showers.
If you have come to see Robin Hood's Major Oak, it is well signposted from the start of the trails across the road from the car park.
It is also ideally located for the Sherwood Forest Art and Craft Centre and Edwinstowe town where you will find pubs, shops, our favourite butchers and a popular bistro. Between the Visitor Centre and the town you will find St Mary's Church where legend tells us Robin and Marian were wed. The church is opposite Launay's and Forest Lodge which are both wonderful places to eat and drink.
For more on the local history, see Edwinstowe Historical Society
If you have visited the area before and wondered what has happened to Sherwood Forest, you will see from the map below how it has changed since the days of Robin Hood. There are still many large areas of the original forest in existence and the Visitor Centre alone boasts 1000 acres. Other areas include Clumber Park, Sherwood Pines, Rufford Country Park and Thoresby Hall.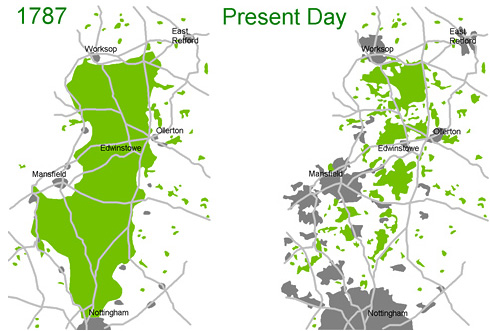 Many of the locations attributed to the legend of Robin Hood, his merry men and adversaries are hidden away. So, if you have an irresistible urge to go off the beaten track and hunt down one or more of these, the treasure map is below. For those less adventurous we recommend the intricate wood carving that adorns one of the fireplaces at Thoresby Hall, No. 4.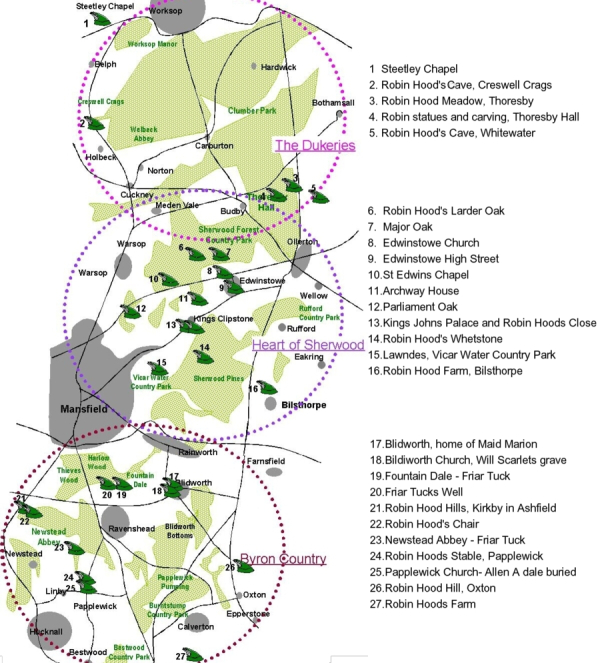 Our accommodation is roughly ten minutes drive from Edwinstowe and Ollerton.